January 25th, 2016
This was our first trip taking all 3 boys to the snow and our first trip without a car that had 4 wheel drive. After a three hour trip, two children barfing from carsickness, and an hour an a half to put the chains on the truck we finally made our way into Yosemite. The amount of people at the park was like no other we've never seen that many people there in all the years that we've been going to Yosemite. After making our way to the snow the littlest one (who's 2-1/2) slipped and took a dive into the snow forever hating it. The two oldest took their first attempt at snow angles but the snow was so hard that it just looked like lunatics trying to bathe in the snow. After an hour of snow play the kids and I decided we'd leave the picture taking up to dad and while we sat in the heated truck dad trucked his way through this snowy field to get this amazing shot of Half Dome. When we saw that dad was headed back to the truck we cranked up the heater and had a nice warm truck ready for him to thaw out in. After hours in the park we headed home, due to the amount of crashes it took us hours to get home the snow was just way too complicated for some people to navigate. I do have to say though there were several times (with chains) that we lost control of our vehicle, wide eyed Kyle and I both held on knowing that it could end badly! Thankfully Kyle's great at driving and was able to get us home safely, truck unscathed and all of us safe.
January 21st, 2016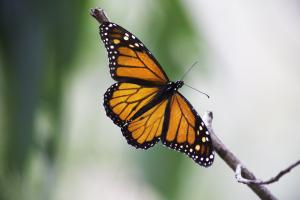 Monarch Butterfly at Natural Bridges State Park in Santa Cruz, California

I finally did it, I got the shot that I've been trying to get for years!! The monarch butterfly migrates to Santa Cruz yearly and every year we go down to see the butterflies, and every year we miss the large troves of butterflies that land there. This year we finally went on a date and made our way down the quiet ramp that leads to this beautiful garden of butterflies. While down with the butterflies I got several shots of large kaleidoscopes of butterflies, but just wasn't able to single out a butterfly that was close enough to me to get a good shot. After about an hour of butterfly hunting, randomly talking to strangers and looking like a complete fool as I hung precariously off the ramp to try and get that one last shot, I gave up and resided to just "getting the shot I want next year". With a heavy heart we made our way up the ramp, with my camera still hung around my neck as we walked, about halfway up the ramp, way far away from all the other butterflies was this beautiful guy chilling on this branch in the most perfect position, it was almost as if he was put there just for me. My camera was up and ready even before I reached him, I did not want to miss this final chance to get the perfect shot. He did dance around a bit but for the most part he stayed right where I needed him (yes it's a male butterfly, the two black pouches on his lower wings prove that he's a male) and I completely appreciated that. I was grinning like a small child on Christmas eve waiting for Santa as I left the butterfly cove with what I knew was the perfect picture!